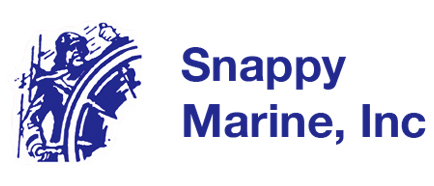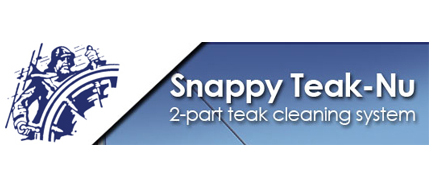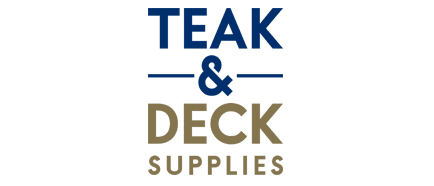 Snappy Teak-Nu is a powerful teak restorer that will bring back that newly-sanded look to your deck. There is no need to sand away your teak or replace it. Your teak can be restored with Snappy Teak-Nu! Remember your teak is a valuable product of the rain forest.
Snappy Teak-Nu
Teak is not sanded away
Caulking not damaged
Do it yourself
Economical
Professional Sanding
Teak is sanded down
Caulking is sanded down
Requires professional tradesman
Expensive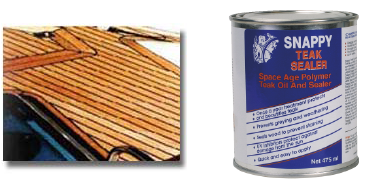 Snappy Sealer gives your teak that new sanded look
Snappy Sealer gives your teak a rich golden color that not only protects your teak but lasts and lasts throughout the entire boat season.
Snappy sealer is not a simple teak oil but an advanced polymer using as its base the finest of teak oils. When it dries it creates a barrier to dirt leaving a beautiful finish that will outlast regular teak oils. Further it will not darken as many teak oils do. Naturally the formula even contains UV inhibitors which not only prevents the sealer from breaking down but even preserves the teak against the damaging effects of UV radiation.
Snappy Sealer is easy to use; After restoring the teak with Snappy Teak-Nu, just spread Snappy Sealer along the grain with a sponge. Only requires one coat. The Sealer contains special pigments to give the teak a warm golden finish.
Prevents graying and weathering
Once a year treatment
Seals wood to prevent staining
UV-protection
Easy to apply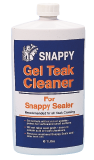 SNAPPY GEL TEAK CLEANER – FOR SNAPPY SEALER
Snappy Gel Teak Cleaner is especially formulated for cleaning surfaces earlier treated with Snappy Sealer. This mild cleaning product will not only clean the sealer's surface but even remove oxidized sealer in preparation for a new coating with Snappy Sealer. It should be noted that once the oxidized sealer has been removed the teak color will appear uneven. This is normal and after applying a new coating of Snappy Sealer the surface will again look beautiful.
This process of cleaning should be done once a year or before the teak has become grey. If the teak has become grey Snappy Teak-Nu must be used before a new coating of Snappy Sealer is applied.
Snappy Gel Cleaner may even be used with advantage on all teak surfaces as a general cleaner. Since Snappy Gel Cleaner is indeed a gel it may be applied with to vertical surfaces.
Protects aluminum and other sensitive surfaces from Snappy Teak-Nu's oxidizing effects.
Easy to use, apply with a finger and afterwards remove with paper towelling.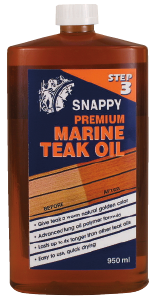 Snappy Premium Teak Oil is an exclusive teak oil from the tung nut tree that grows in China. It is an alternative to Snappy Sealer, if one wishes a darker, prettier and more natural color on their deck.
The oil leaves a warm, beautiful color and lasts a long time. Only the finest tung nut oil is used and then an effective UV-protection is added. The mixture goes through a polymerisation process resulting in a unique oil that will last 4-6 times longer than other teak oils.
Snappy Premium Teak Oil does not darken and is very easy to apply! Snappy Premium Oil is especially appropriate for your teak furniture.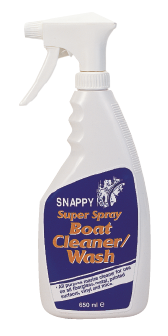 Snappy Super Boat Cleaner contains advanced tensides and chelating agents in a proportion that makes this product the ideal all around cleaner. Spray on and wipe off dirt. Safe for all surfaces. Snappy Super Boat Cleaner can be used diluted as a boat wash or as a concentrated spray to clean those really dirty areas. Even great around the house.
Snappy Hull Cleaner contains powerful tensides and chelating agents together with small amounts oxalic acid. Its main purpose is to effortlessly clean the waterline but it can safely be used on the entire hull. This formulation will remove yellow hull stains as well as marine growths. Snappy Hull Cleaner is easy to use and and can be used in or out of the water.
Premium Marine Polish with PTEF
SNAPPY PREMIUM MARINE POLISH med PTEF® -It is not a wax!
After cleaning the gelcoat it must be protected. Traditionally this meant rubbing in a waxy compound to coat the gelcoat, not unlike rubbing a candle on to the gelcoat. Snappy Premium Marine Polish is different. Instead of using a wax Snappy uses PTEF®
® REG. TRADEMARK StarBrite.
PTEF has many advantages over traditional waxes. PTEF creates a slippery hard surface the prevents dirt from sticking. Dirt runs off. We call this effect the "frying pan effect".
PTEF also protects up to 5 times longer than traditional waxes. This long time protection is a result of the binding power between PTEF and gelcoat.
Snappy Polish even has extra UV protectors to prevent breakdown, oxidation and other negative environmental effects. Lastly we would like to proclaim that Snappy Marine Polish with PTEF is very easy to apply.
Concentrated formula. Biodegradeable but powerful enough to remove dirt, tar, exhaust smudge, fish blood, salt and other stains.
Spray on and hard to clean rust stains vanish.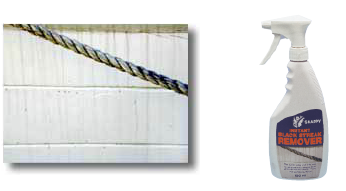 Removes those black streaks that occur after dirty water has run down the gelcoat. Polish and waxes are not removed!