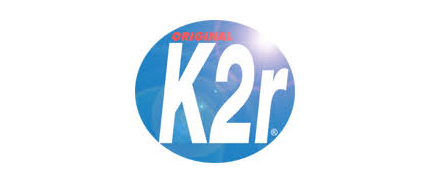 K2r has a series of product that can help you keep you boat clean from washing down to polishing, it caters to all your need when maintaining your yacht:
Blasts away dirt and grime from any surface, it's the one cleaner to have for all your cleanup chores.
Harness the stain fighting power of K2r in a 32oz. versatile liquid trigger bottle. Simply spray on and wipe off as the advanced cleaning formula makes quick work of dirt, grease, grime, mildew, tar and oil stains on contact.
Super Spray is specifically formulated to tackle a variety of tough marine cleanups including: Fiberglass, Vinyl seats and covers, boat fenders, formica, plexiglass, headliners, woodwork, deck furniture, dock boxes, tools, water and electric lines, and boat carpet/fabric.
Use k2r Spotlifter to pull oily stains from teak, carpets and fabric. No other stain remover works as well on to pull oil, grease and food stains from Teak decking and trim.
The new rust-resistant can will never leave a ring on your boat and comes with a new "enhanced" ergonomic brush cap built right in.
Remove nearly any stain from boat carpet, canvas tops and covers, upholstery, interior fabrics, furniture and drapes.
To use simply spray the stain and allow K2r to dry to a white powder then brush away, its that easy!

It's a cleaner and a wax in one, offering a long lasting shine and durable protection.
Requires no pre-washing and no water.
Can be used on boats, jet skis, cars, RVs, aircraft, motorcycles, much more.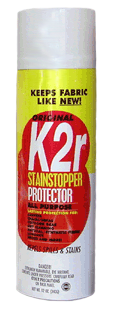 Protect Fabrics from Dirt, Spills and Stains
Use on carpets, area rugs, furniture (indoor and outdoor!), cloth car and camper interiors, children's car seat liners, pillows. table cloths, shoes and more!
Keep your fabrics and upholstery clean and looking new loner with K2R StainStopper fabric protector. Specifically formulated to repel spills, stains. dirt and oil.
Stainstopper creates an invisible shield between fabric and life's spills and accidents. StainStopper is safe for most fabrics and will not attract dirt or change the look or feel of your fabrics.